每天一早起床,睁开眼的第一件事就是寻找手机的踪影,然后打开面子书刷一刷,"探索"期待着哪儿又在进行大促销。嘿!我就在说你呢,你也是其中之一吧?
小编今天就带给你好消息啦,Family Mart Malaysia三岁喽!它盼与大马国民一起庆贺,也借此回馈它的忠实铁粉们一直以来的关顾。所以,将从即日起至11月12日期间,在各大马Family Mart进行三周年庆大促销活动!届时,指定食品只需要RM3,还推出了各种新食品呢!
Jom,跟着小编去看看有什么"好料"促销,以及新产品的庐山真面目吧!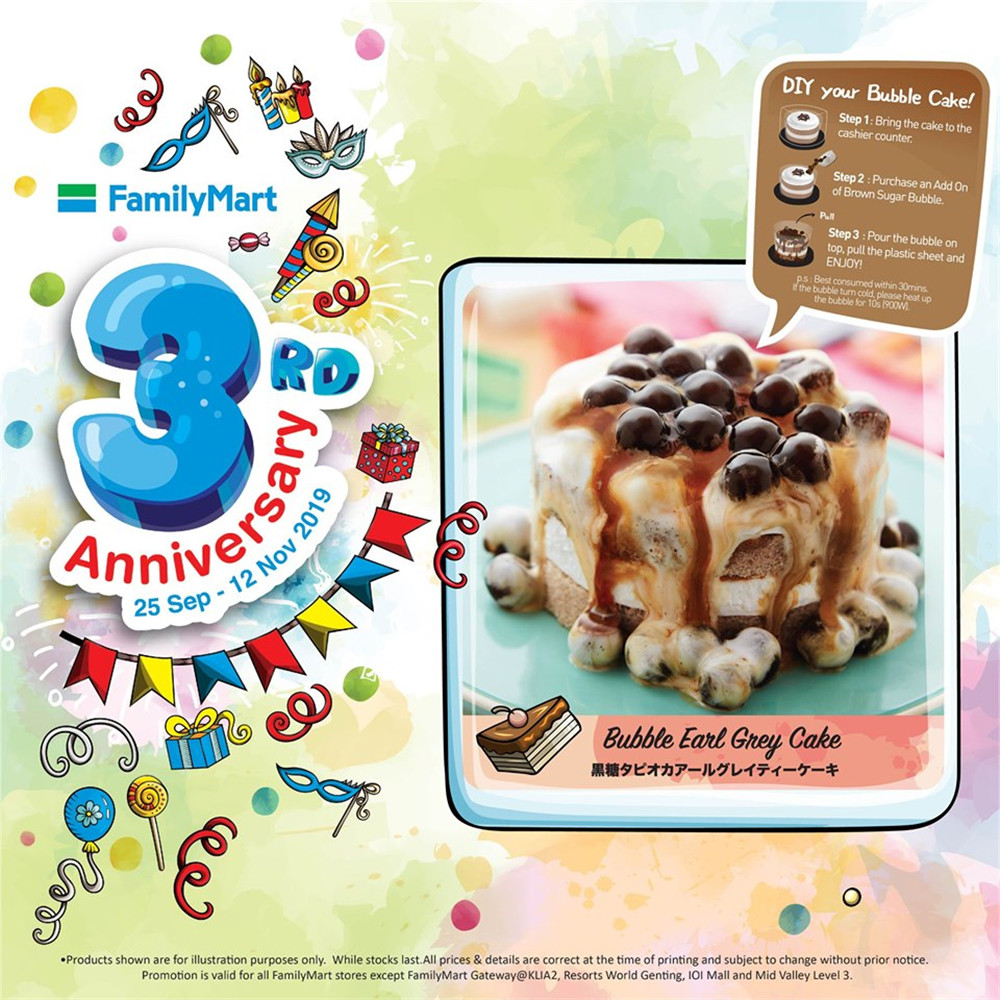 如今,各州或是雪隆区的大街小巷,都不间断的吹起黑糖珍奶风,且随处都可看到珍奶店的足迹。所以,连Family Mart 3周年也及时推出网红款的Bubble Earl Grey Tea Cake伯爵珍珠奶茶蛋糕。
伯爵奶茶蛋糕的价格为RM5.90(若在KLIA2 和Resort World Genting,价钱为RM7.10),而黑糖珍珠是需要另加RM2(若在KLIA2 和Resort World Genting,价钱为RM2.40)。每次只能望着网路上的爆浆珍奶蛋糕,却吃不到而感到无奈。然,这次是可以真真切切的吃到了!期待ing~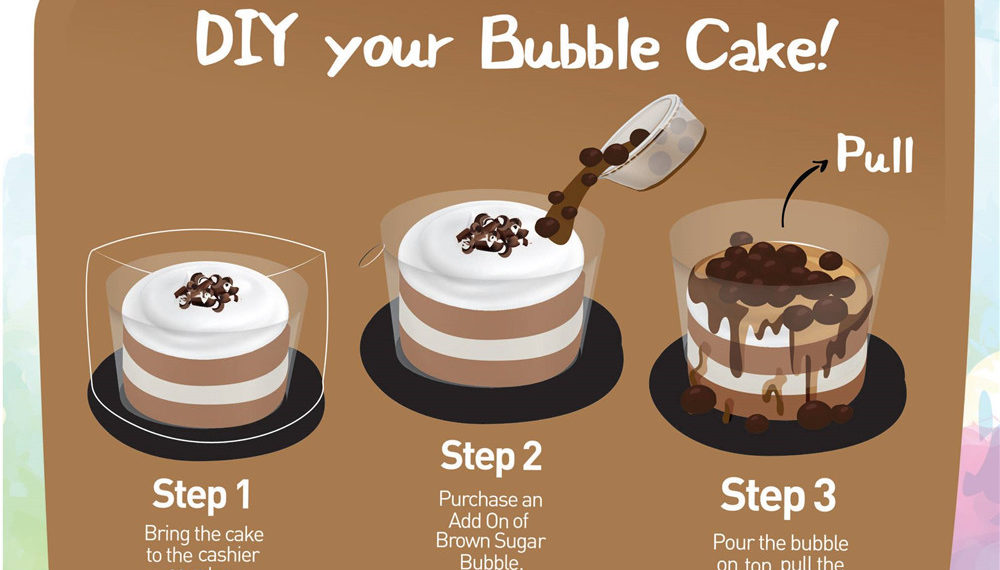 你还可以自己动手DIY蛋糕呢!有谁在近期生日的,快给他们一个大大的Surprise吧!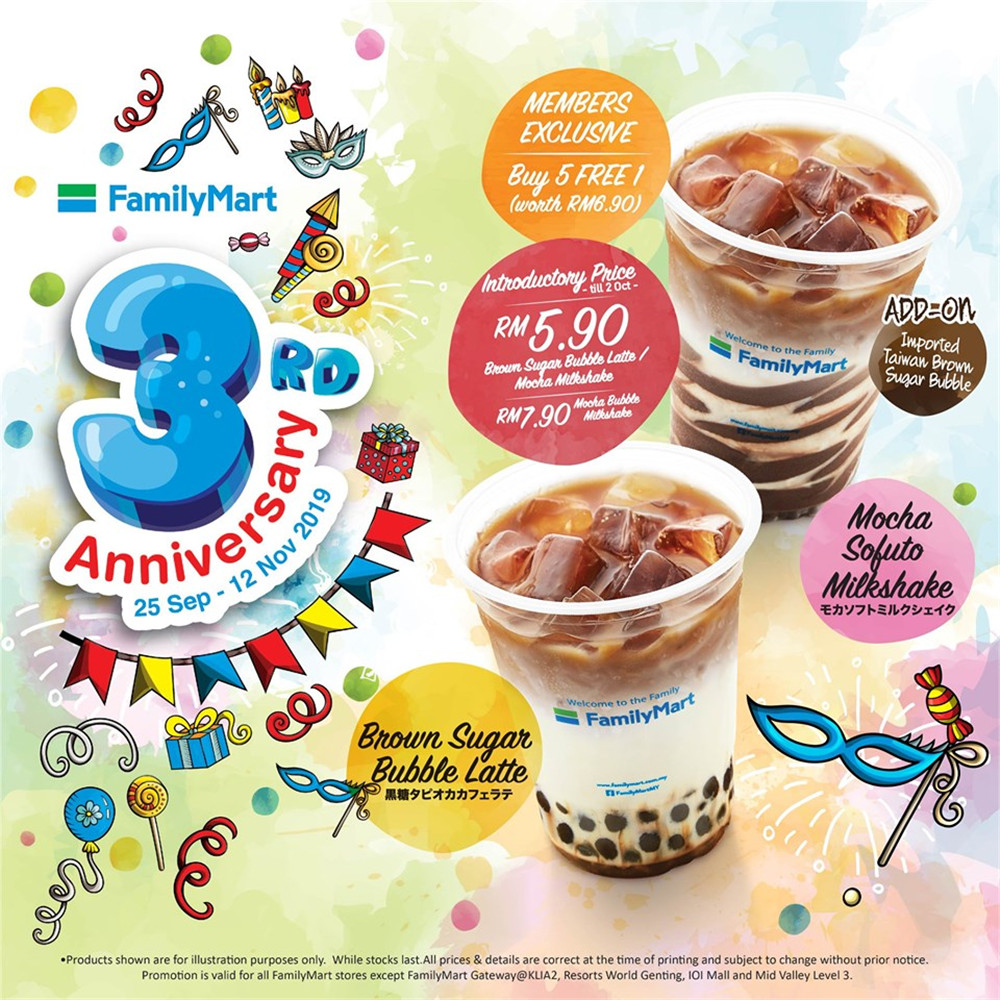 又是一款人人手里少不了的奶茶,而大马Family Mart也顺势跟风,像是Brown Sugar Bubble Milk 黑糖珍奶,Mocha Sofuto Milkshake 摩卡冰淇淋奶昔等,看了都好好喝哦!
由于祝贺Family Mart 3周年,Brown Sugar Bubble Milk 和Mocha Sofuto Milkshake的特价至10月2日为RM5.90。另外,Mocha Bubble Milkshake的特价至10月2日为RM7.90。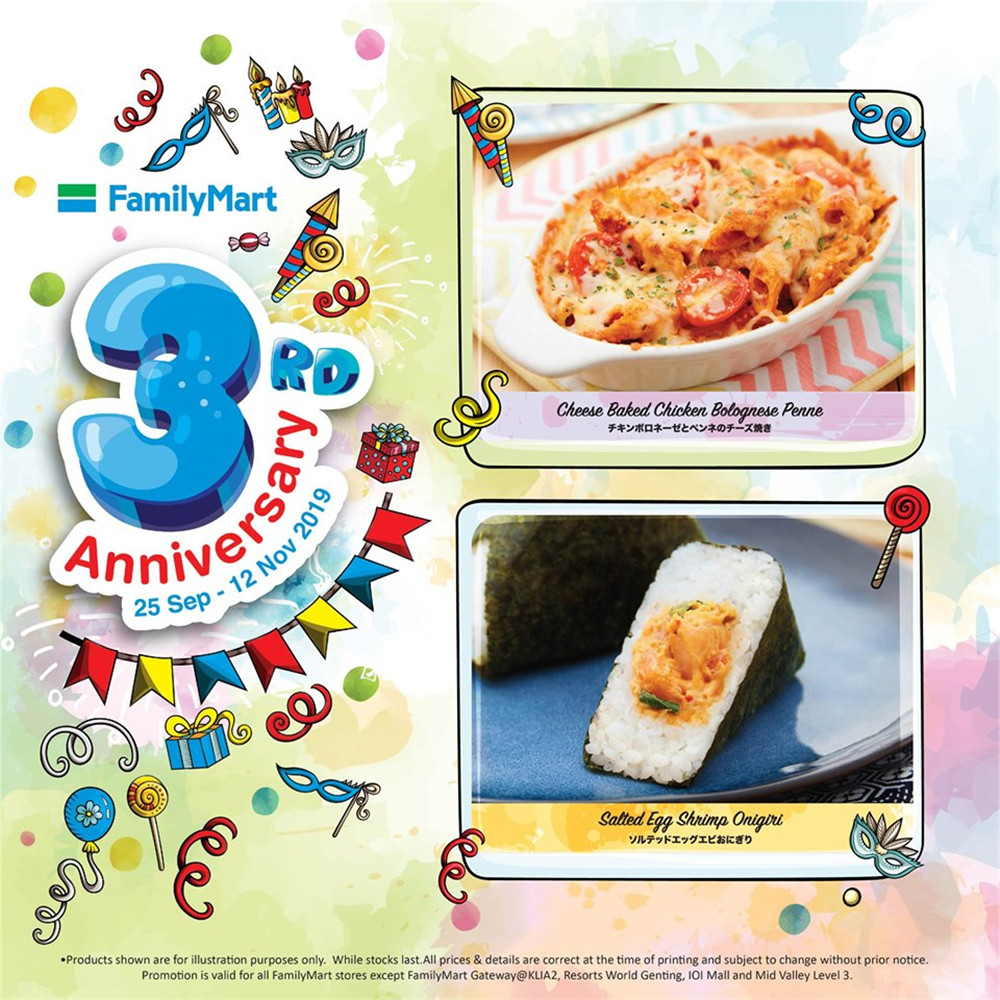 除了珍奶系列,还推出了一些新产品,让你吃了有满满的饱足感。如:Spicy Mayo Mentaiko Spaghetti、Gyudon、Cheese Baked Chicken Bolognese Penne和Salted Egg Shrimp Onigiri。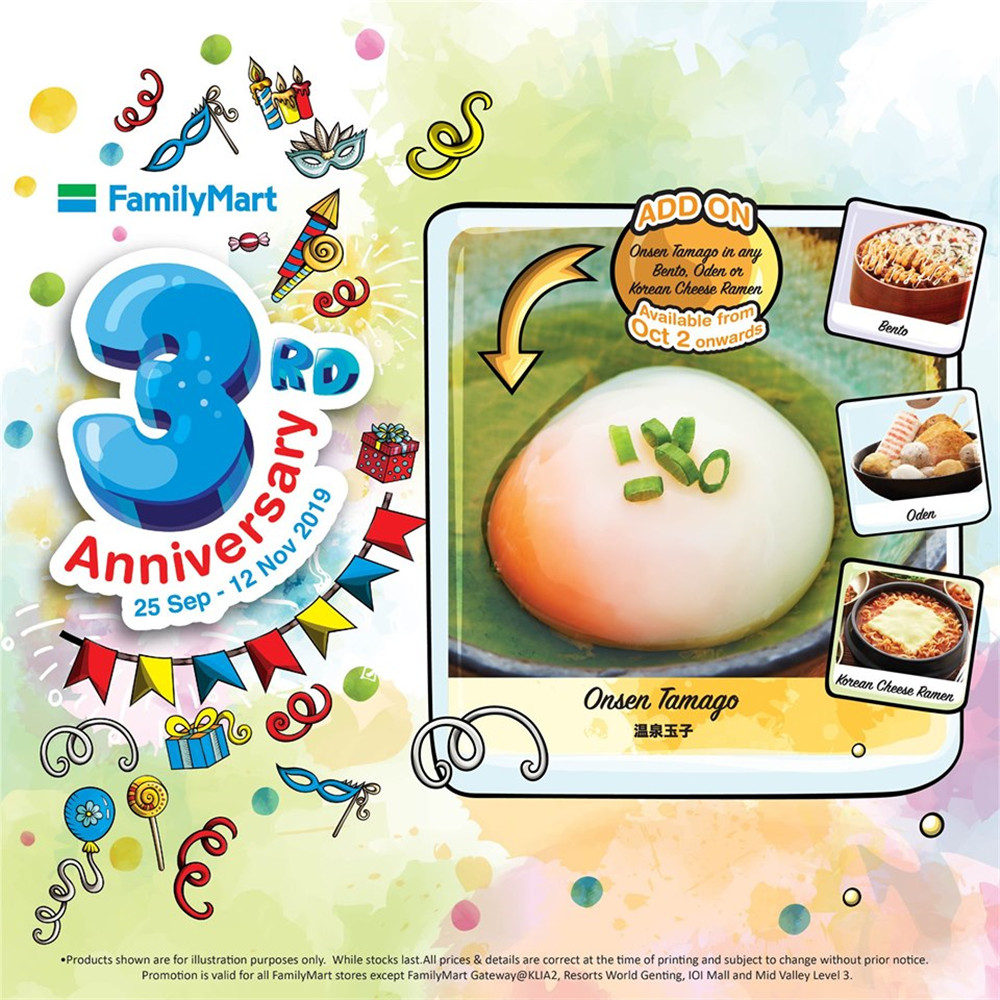 此外,从10月2日起,可以在任何便当、关东煮或韩国芝士拉面中加Onsen Tamago哦!
大马Family Mart 3周年庆,就是得豪迈的庆祝,大促销包括各种指定包装食品,都以RM3起!小编只怕你荷包不争气啊!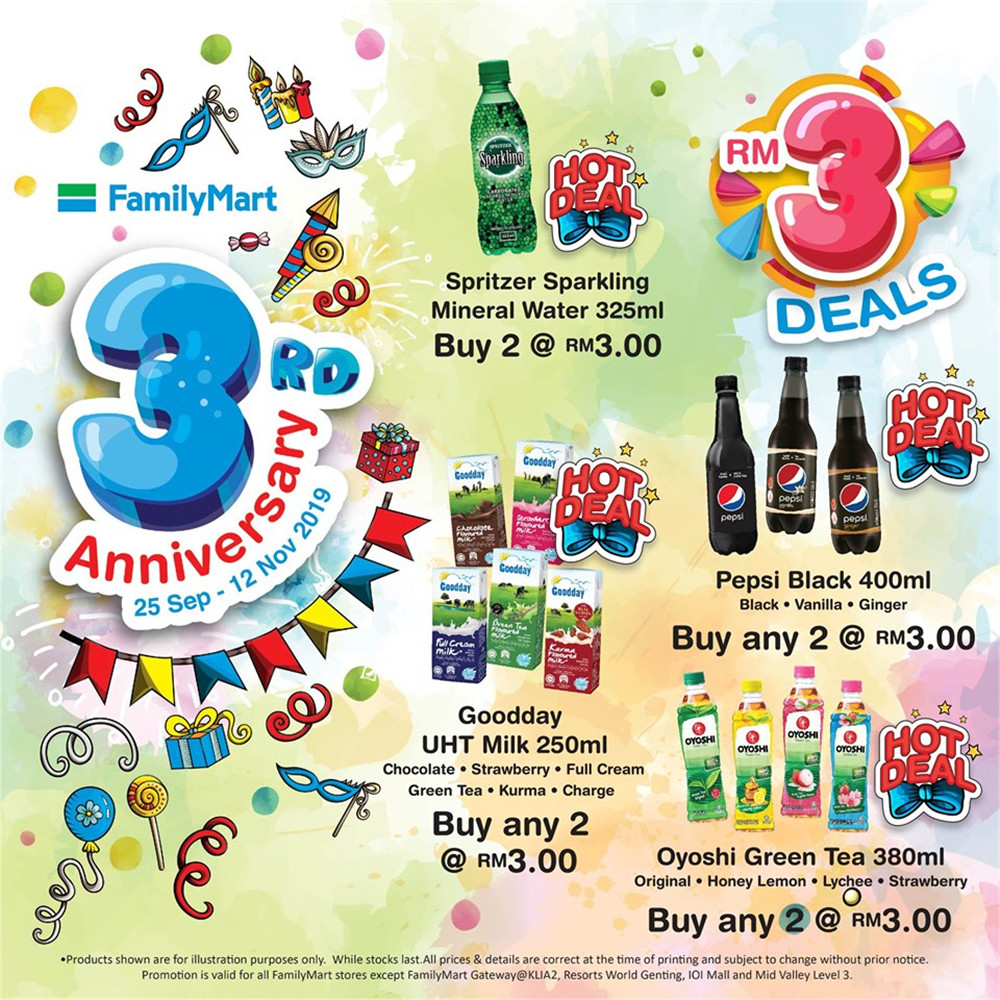 ?2 Spritzer Sparkling Mineral Water 325ml
?2 Goodday UHT Milk 250ml (Chocolate | Strawberry | Full Cream | Green Tea | Kurma | Charge)
?2 Pepsi Black 400ml (Original | Vanilla | Ginger)
?2 Oyoshi Green Tea 380ml (Original | Honey Lemon | Lychee | Sakura Strawberry)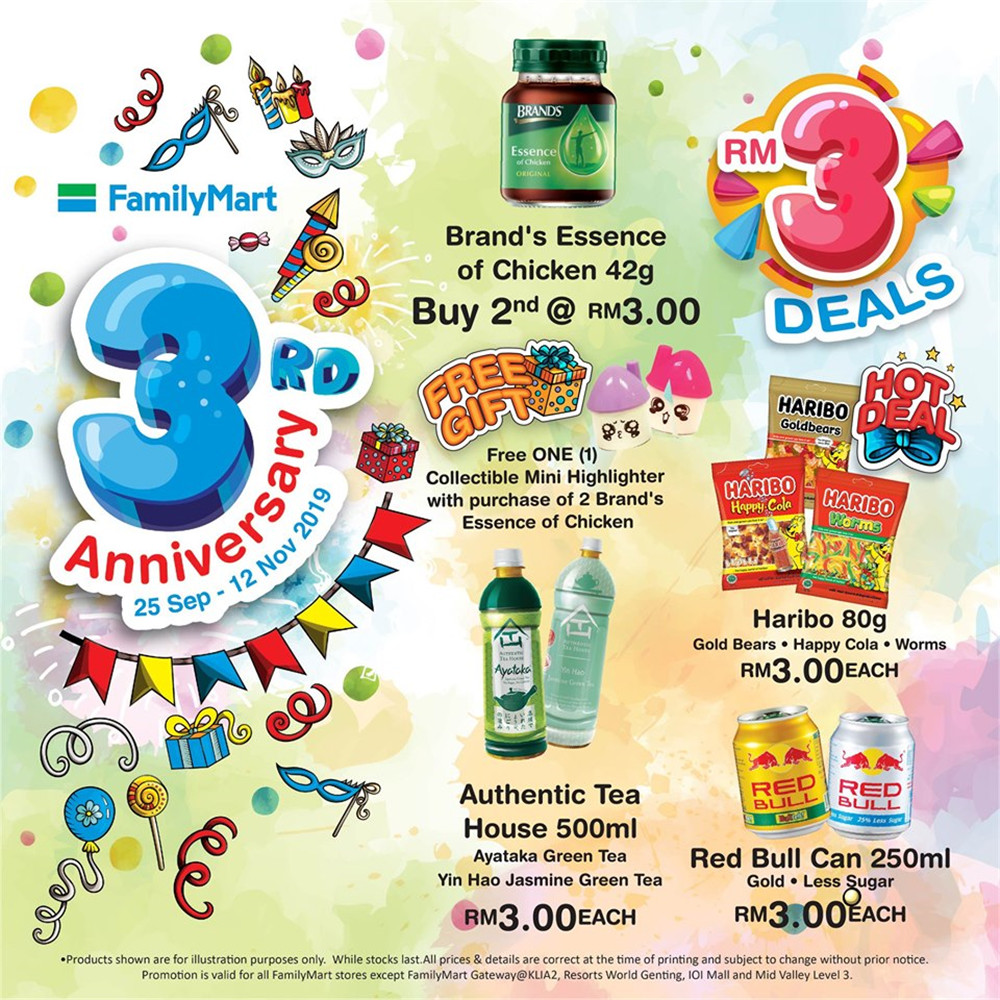 ?2 Brand's Essence of Chicken 42g & Free 1 collectible Mini Highlighter
?Authentic Tea House 500ml (Ayataka Green Tea | Yin Hao Jasmine Green)
?Haribo 80g (Gold Bears | Happy Cola | Worms)
? Red Bull Can 250ml (Gold | Less Sugar)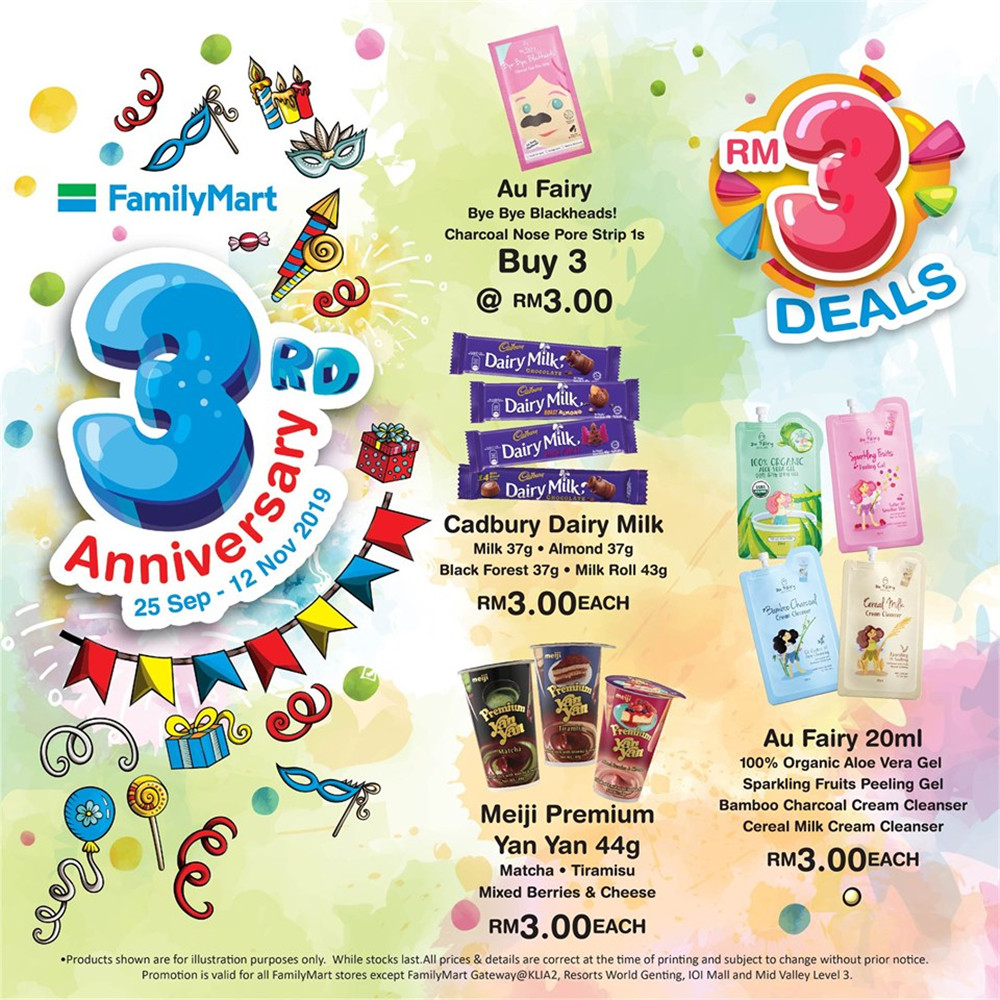 ?3 Au Fairy Charcoal Nose Pore Strip
?Cadbury Dairy Milk (Original 40g | Almond 40g | Black Forest 40g | Milk Roll 43g)
? Meiji Premium Yan Yan 44g (Matcha | Tiramisu | Mixed berries & Cheese)
?Au Fairy 20ml (100% Organic Aloe Vera Gel | Sparkling Fruits Peeling Gel | Bamboo Charcoal Cream Cleanser | Cereal Milk Cream Cleanser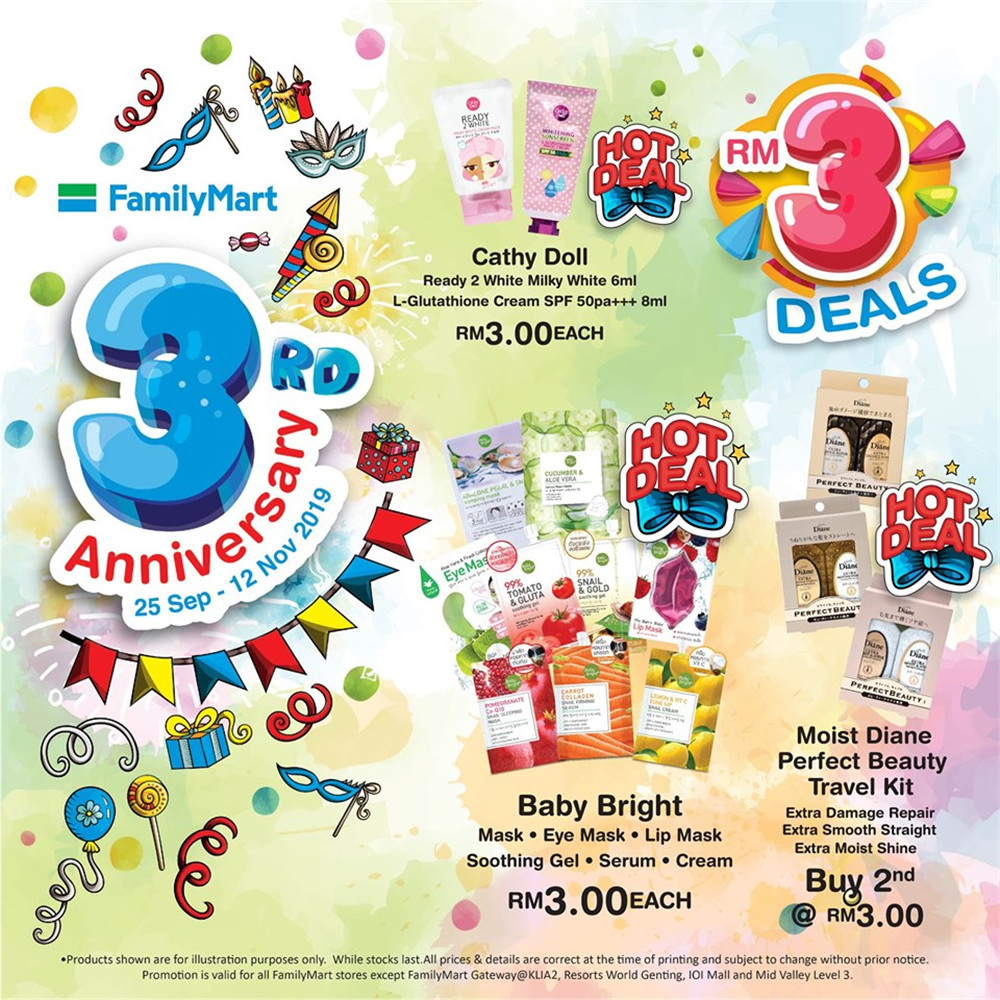 ? Cathy Doll (Ready 2 White Milky White Cream 6ml | L-Glutathione Cream Spf 50pa+++ 8ml)
?Baby Bright (Mask | Eye Mask | Lip Mask | Soothing Gel | Serum | Cream)
? 2 Moist Diane Perfect Beauty Travel Kit (Extra Damage Repair | Extra Smooth Straight | Extra Moist Shine)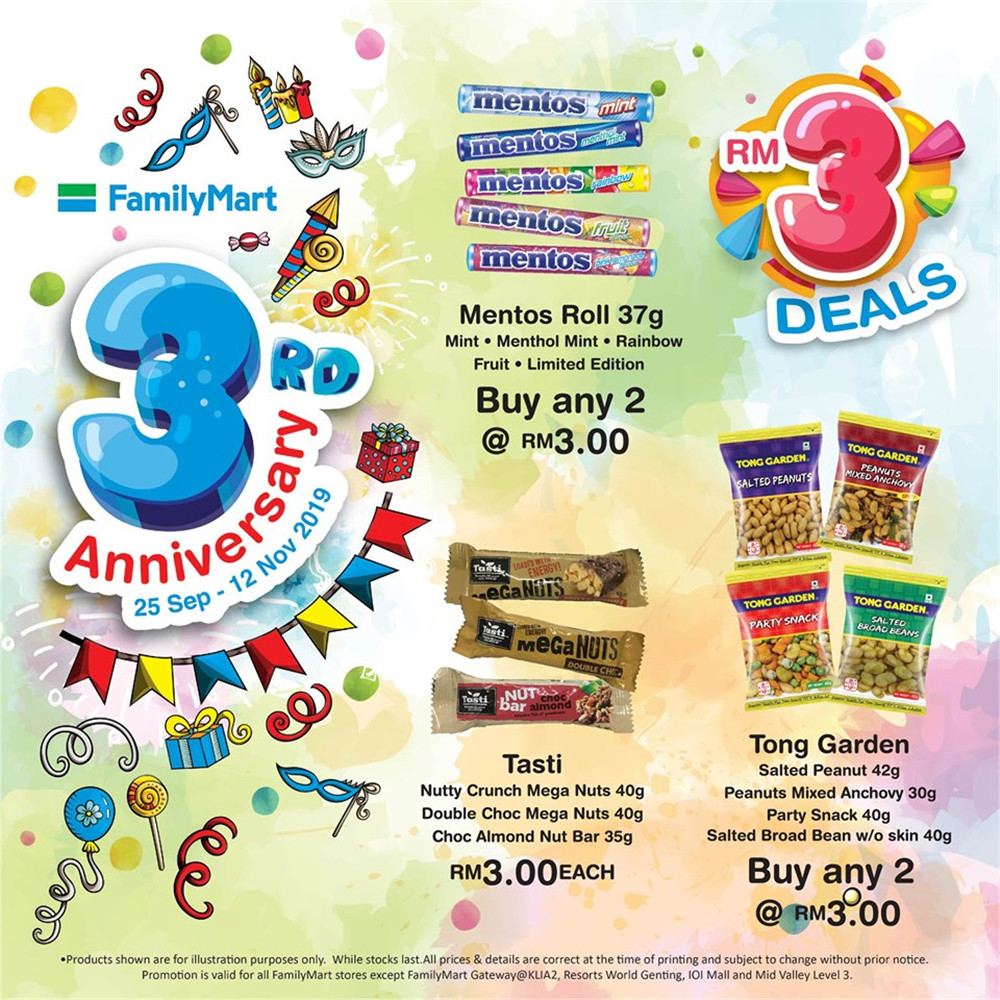 ?2 Mentos Roll 37g (Mint | Menthol Mint | Rainbow | Fruit | Limited Edition)
?Tasti (Nutty Crunch Mega Nuts 40g | Double Choc Mega Nuts 40g | Choc Almond Nut Bar 35g)
?2 Tong Garden (Salted Peanut |Peanuts Mixed Anchovy | Party Snack | Salted Broad Bean without skin)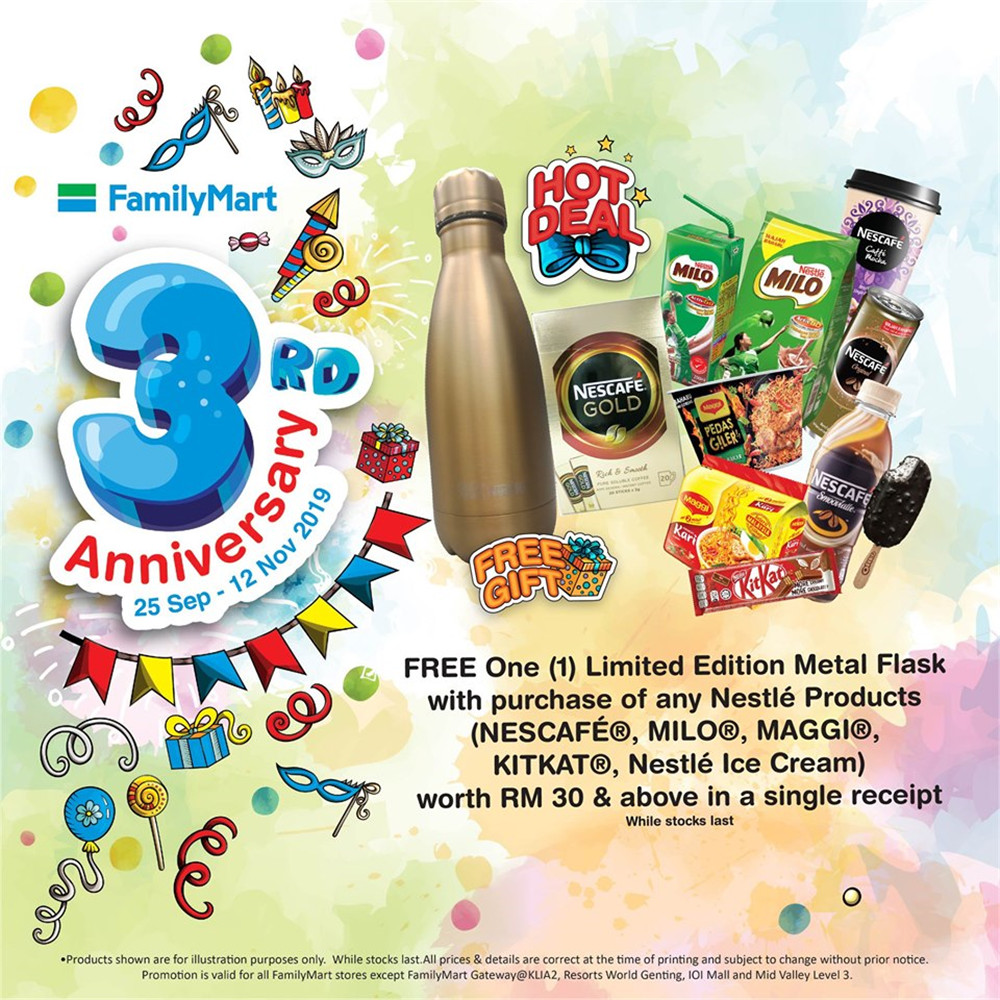 凡购买Nestle产品满额RM30或以上(单收据),即可免费获赠1个限量版金属瓶子。
*limited and while stocks last.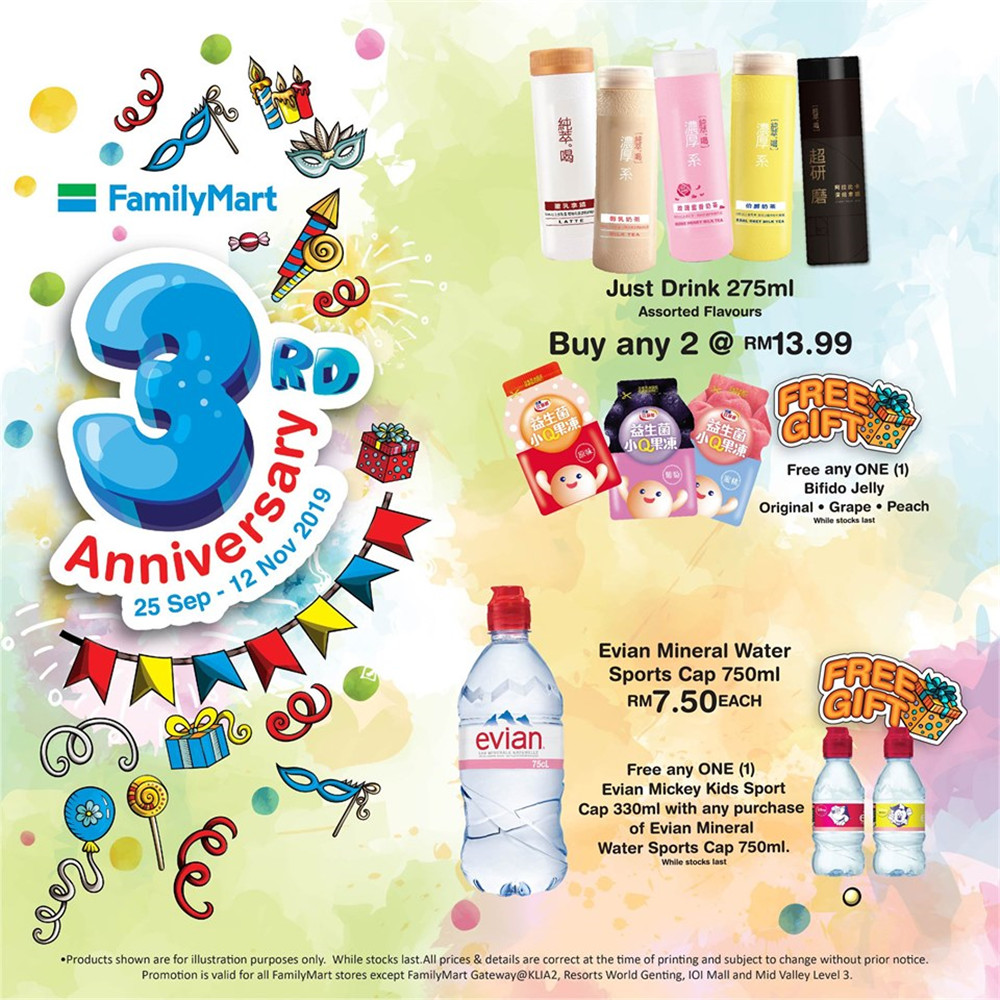 ?Buy any 2 Just Drink (Latte | Milk Tea | Rose Honey Milk Tea | Earl Grey Milk Tea | Arabica Dark Roasted Latte) and receive 1 Bifido Jelly.
?Free any 1 Evian Mickey Kids Sport Cap (330ml) with any purchase of Evian Mineral Water Sports Cap (750ml).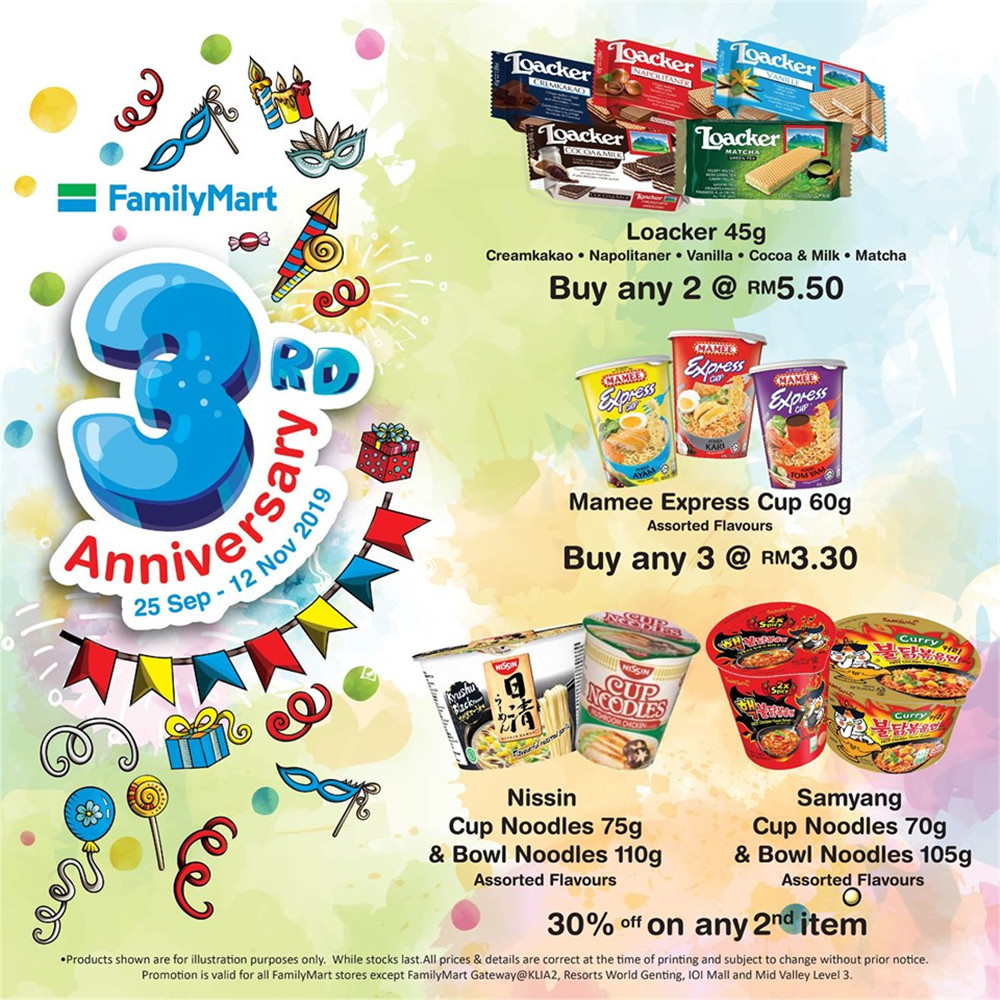 ? Loacker (Creamkakao 45g | Napolitaner 45g | Vanilla 45g | Matcha 37.5g)
?Mamee Express Cup
?Nissin Cup Noodles & Bowl Noodles
? Samyang Cup Noodles & Bowl Noodles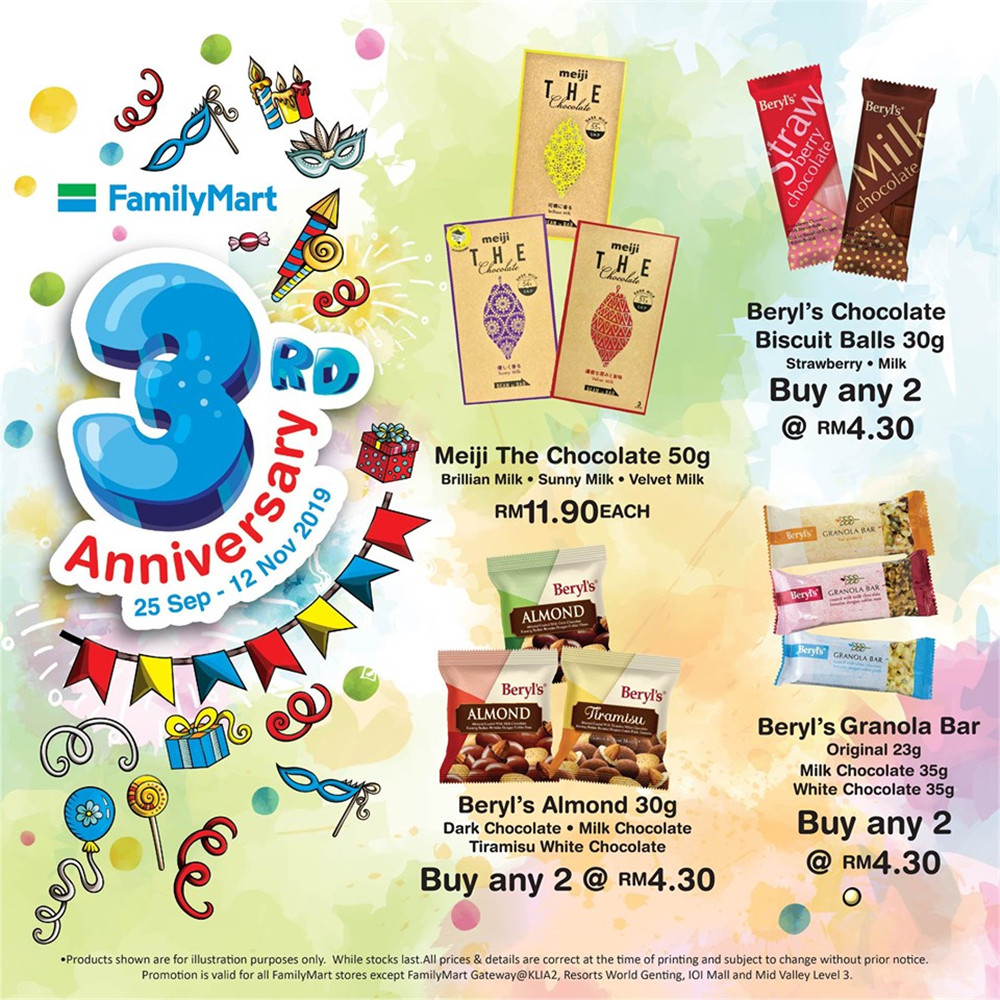 ?Meiji The Chocolate 50g (Brillian Milk | Sunny Milk | Velvet Milk)
? Beryl's Chocolate Biscuit Balls 30g (Strawberry | Milk)
?Beryl's Almond 30g (Dark Chocolate | Milk Chocolate | Tiramisu White Chocolate)
?Beryl's Garnola Bar (Original 23g | Milk Chocolate 35g | White Chocolate 35g)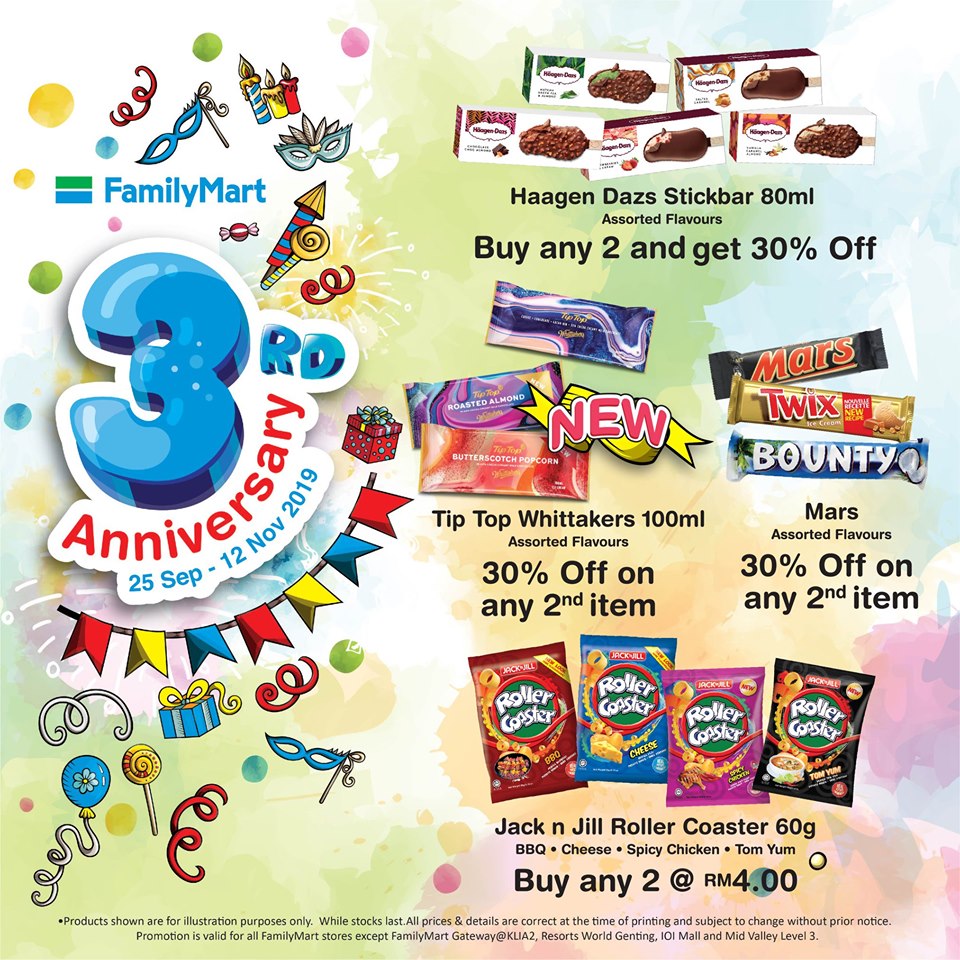 ?Haagen Dazs Stick Bar 80ml (Choc Almond | Cookies & Cream | Green Tea & Almond | Peanut Butter | Salted Caramel | Strawberry & Cream | Vanilla Caramel | Brownie Macchiato)
?Tip Top Whittakers 100ml (Assorted Flavors)
? Mars (Assorted Flavours)
?Jack n Jill Roller Coaster 60g (BBQ | Cheese | Spicy Chicken | Tom Yum)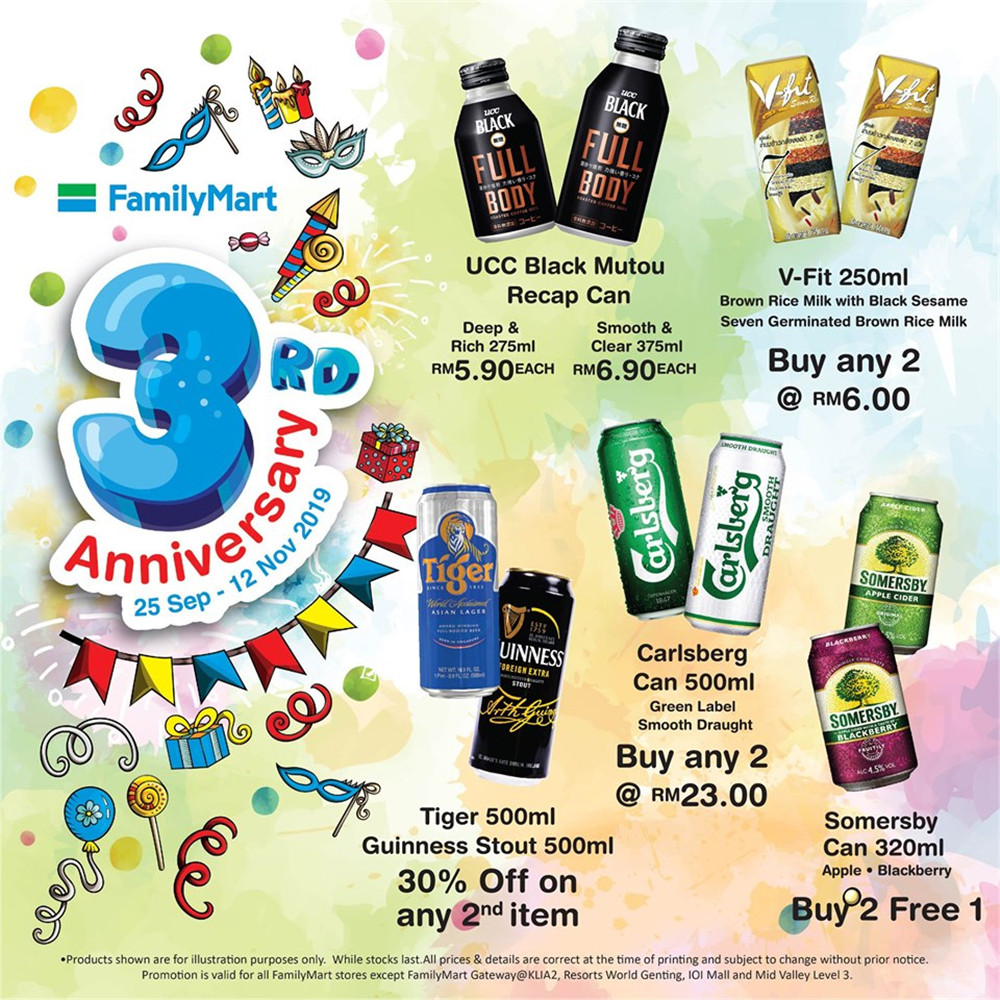 ? UCC Black Mutou Recap Can (Smooth & Clear Recap Can 375ml | Deep & Rich Recap Can 275ml)
? V-Fit 250ml (Brown Rice Milk with Black Sesame | Seven Germinated Brown Rice Milk)
?Tiger | Guinness Stout 500ml
?Carlsberg Can 500ml (Green label | Smooth Draught)
? Somersby Can 320ml (Apple | Blackberry)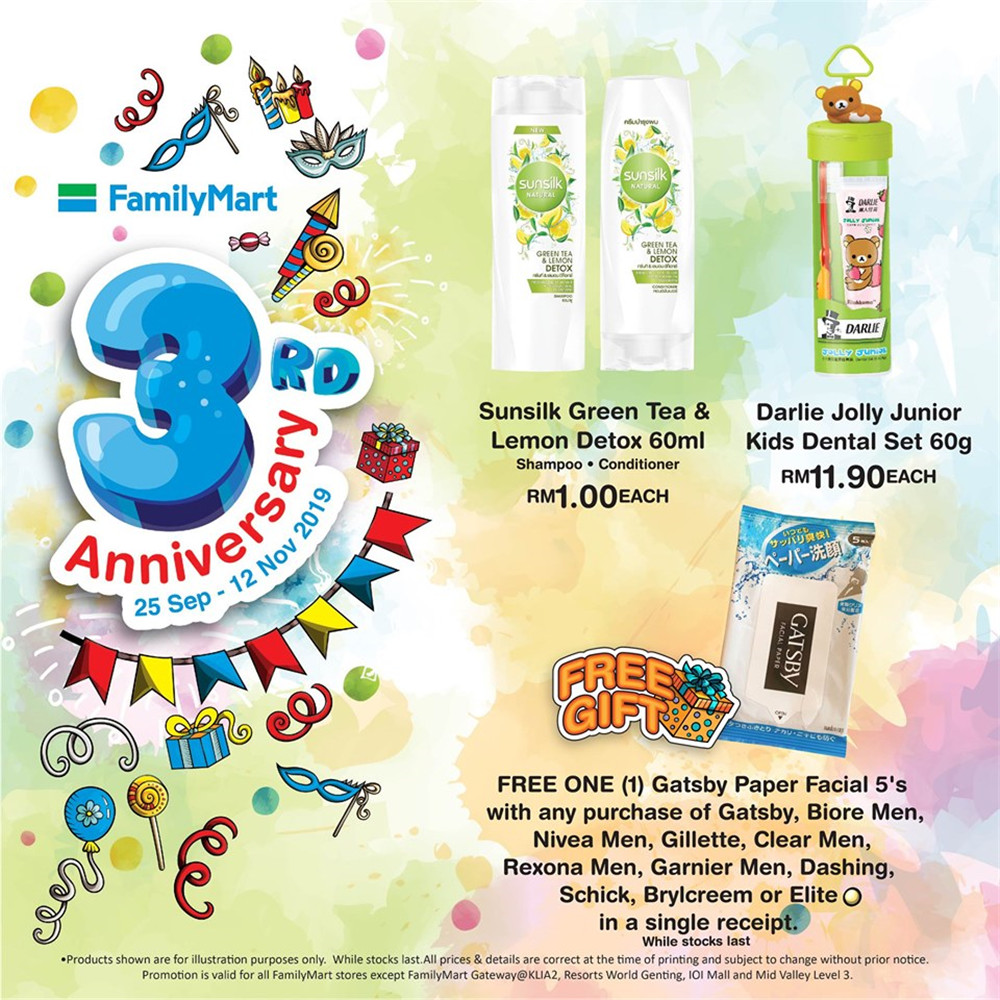 ? Sunsilk Green Tea & Lemon Shampoo 60ml (Detox | Conditioner)
?Darlie Jolly Junior Kids Dental Set 60g
?FREE 1 Gatsby Paper Facial 5's with any purchase of Gatsby, Biore Men, Nivea Men, Gillette, Clear Men, Rexona Men, Garnier Men, Dashing, Schick, Brylcreem or Elite
此优惠可在马来西亚各大Family Mart商店中获得,除了 FamilyMart [email protected],FamilyMart IOI City Mall,,FamilyMart Mid Valley L3 以及Resorts World Genting。大家得注意喽!